NEXT
PREV
Zoom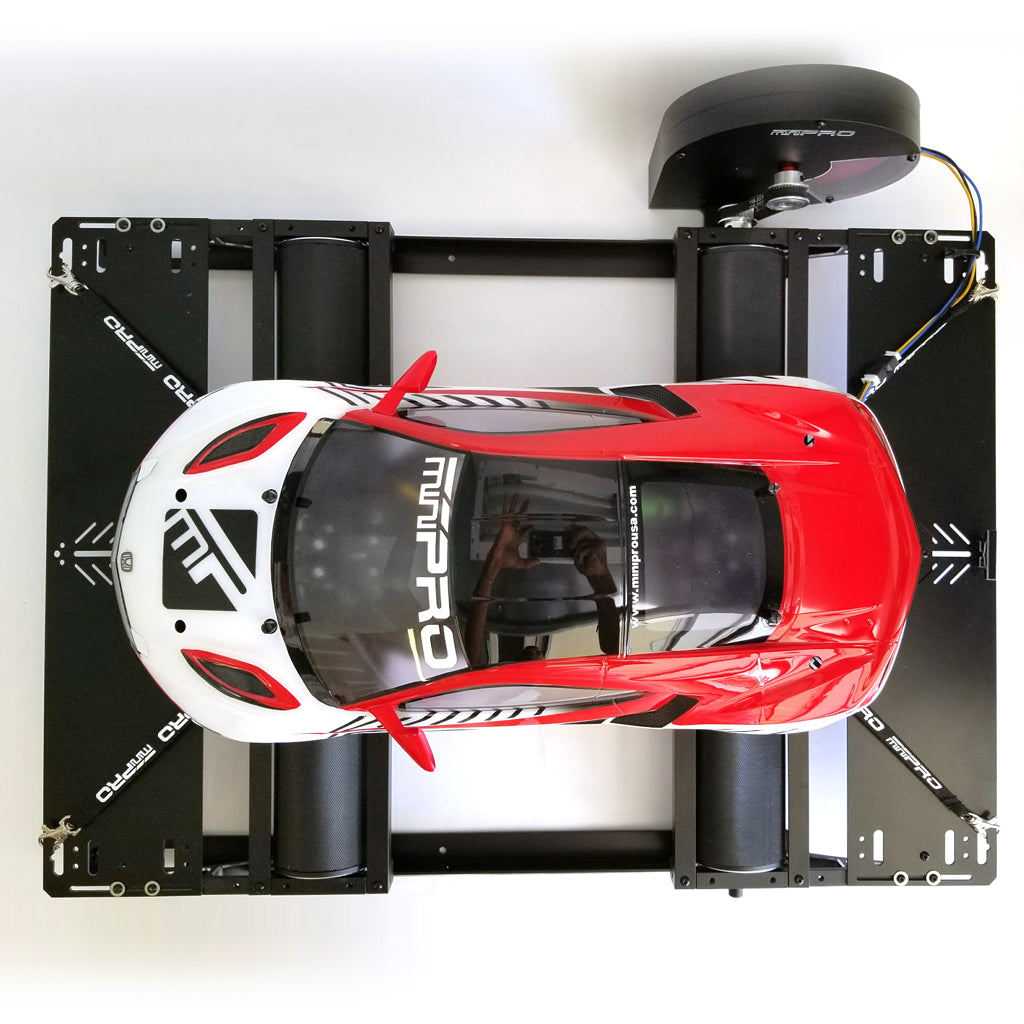 All in-stock items will be ship within 5 business days. All pre-orders will be shipped within 5-6 weeks.
This is a chassis dynamometer (dyno) that measures the rpm, kv, voltage, current draw, power and torque output of your vehicle. This dyno is great tool for motor analysis, ESC (boost) adjustment, brushless sensor adjustment, gearing calculation, tire selections, and much more. The dyno is coupled with to a knurled roller via a pulley and belt to accelerate the inertial mass. We will call this a 'flywheel' for simplicity. Our electronic board takes the flywheel's inertia (resistance of an object to a change in its state of motion), measures the rate it takes to accelerate and calculates the output power and torque of your vehicle. Our dyno repeatedly measures and calculates power in small increments to produce an accurate graph on a PC of the engine's power characteristics. 
 [line class="hr-default" size="1"]
APPLICATIONS
Our dyno is suitable for 1/12, 1/10, and 1/8 gas or electric vehicles with 8.4V (2S) max. It incorporates an adjustable wheelbase design for up-to 370mm of allowable wheelbase; and 375mm of vehicle width. 
[line class="hr-default" size="1"]
MULTIPLE FLYWHEELS CONFIGURATION
Our chassis dyno gives you the option to increase or decrease inertia at the rollers. We incorporated a modular design that allows you to add up-to two flywheel housing (same as the motor dyno) to increase the inertia. This allows you to test high torque vehicles. Inside these cases is the flywheel (heart of the dyno). We offer different sizes and materials of to best suit your vehicle application. Additional flywheels can be purchased separately.
  [line class="hr-default" size="1"]
FLYWHEEL HOUSING
The chassis dyno uses the same flywheel housing as the motor dyno - a high quality 6061 aluminum frame cover around the flywheel to protect from high rpm vehicles. Yet we still offer the ability to see the flywheel spinning action by adding a clear window screen.
[line class="hr-default" size="1"]
PREMIUM BALL BEARINGS
The flywheel incorporates a set of 2 high-speed, black-sealed, steel ball-bearings throughout the assembly to ensure maximum efficiency.

  [line class="hr-default" size="1"]
KNURLED ROLLERS FOR MORE GRIP
_.
[line class="hr-default" size="1"]
BASE
The base of the dyno includes four foam pads to reduce the vibration of the vehicle. The profile guide rails incorporate holes as an option for fixing the base on a table.
 [line class="hr-default" size="1"]
VEHICLE STRAPPING
Full Size Car Dynos are know for their famous belt-striping feature, and our dyno is not an exception. The chassis dyno includes four belt stripes to fix your vehicle. In addition, the our Upper Deck slides back/forward to adjust the tension. 
 [line class="hr-default" size="1"]
EASY MAINTENANCE
The chassis dyno is very easy to maintenance. It incorporates a roller bearing housing design for easy maintenance and replacement of bearings.
[line class="hr-default" size="1"]
PRECISE TEST RESULTS
Precise, otherwise known as "Repeatability"  is what you want in a dyno, that means test the same electric motor time after time and get the same results. Our dyno is capable of repeatable test results using the ESC Controller Board (Sold Separately). 
  [line class="hr-default" size="1"]
ELECTRONIC BOARD
The dyno uses a custom PCB with a build Optical RPM sensor, delivering low noise and accurate readings. It features a built-in micro USB for connection to your PC. It includes one external LCD port, one external throttle controller port, one current and voltage sensor port, and two temperature sensor ports.


   [line class="hr-default" size="1"]
PC APPLICATION
The dyno includes the software to analyse your vehicle. 
SOFTWARE FEATURES:
Real-Time Data Display
Real-Time Data Plotting in 2D or 3D
Multiple Charts Selection
Two Unit Systems: English & Metric
Multiple Runs on the Same Screen Graph
Summary Information Screen for Quick Results and Analysis
Graphical Gauge Setup Options
Graph Curves Settings
Logging Data, and Saved in .CSV Format
Edit Data Live without Using 3rd Party Software such as Excel
Save/Load Previous Runs, including the Graphs
Vehicle Top Speed Measurements
Print Test Results in Black or White Background
Compatible with RC Crew Chief (RC3) - see picture below

 ** This is a sample dyno test results using RC3. This software IS NOT INCLUDED. Please visit RC3 website for more details. **
[line class="hr-default" size="1"]


 

TECHNICAL SPECIFICATIONS

Roller's Torque: 1.5N-m Max (with GT2 2mm Belt) 
Roller's RPM: 7,000Max
Units: English & Metric
Adjustable Reading and Logging Rate: Up to 50Hz

PACKAGE CONTENTS

A. For Chassis Dyno with Flywheel Unit:

(1) R/C chassis dyno with customer's selected flywheel unit with
(1) Micro-B USB cable
Please note that a voltage and current sensor must be purchased seperately
For controlling the car with the software a Throttle Controll Sensor must be purchased seperately.

B. For Chassis Dyno without Flywheel Unit:

(1) R/C chassis dyno kit
(1) Necessary components to attach your existing Motor Dyno Flywheel Unit
Please note that you need flywheel unit to use this kit. No electronics are included.

SUPPORTED OPERATING SYSTEMS

Microsoft Windows 7, 8, 10

TOOLS REQUIRED

Allen: 1.5mm, 2.0mm
Phillips Screw Driver
Soldering Iron

EQUIPMENT REQUIRED

Electronic Speed Controller (ESC)
Battery to Power ESC and Motor.
R/C Transmitter and Receiver Or Servo Tester 
(Not Required if using ESC Throttle Controller Board)
Windows PC with 1 USB Port
(Two USB ports are required when using the ESC Throttle Controller Sensor)

DOWNLOADS

Instructions Guide, Software, and Drivers please go to our Download Page

** Please check our Knowledge Base to find useful information about all of our products. **

 
More from this collection